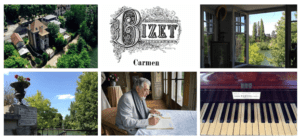 Today, as France, Europe and the entire world commemorate the birthday of Europe's great composer, Georges Bizet, Europa Nostra and our President, Maestro Plácido Domingo, wish to invite you to support the crowd-funding campaign to save the House of Bizet in Bougival, near Paris in France.
As you read in the Summer edition of our Newsletter, this campaign was launched by the European Music Centre and the City of Bougival on 21 June 2017 in Paris. The launch coincided with the 20th anniversary of the European Music Day.
Given the symbolic European value of this initiative, Europa Nostra and our President exceptionally decided to give it our high patronage. Watch the video message which our President recorded for the launch of this crowd-funding campaign.
After four months, we are pleased to inform you that so far, 950 people have already supported the project with a total amount of almost €125,000 raised.
Additional contributions are needed and more than welcome!
BIRTHDAY PRESENT FOR GEORGES BIZET
A personal message from Maestro Plácido Domingo, President of Europa Nostra
Dear Friends of Europa Nostra,
On 25th October, we celebrate the 179th birthday of one of Europe's greatest composers, Georges Bizet.
Throughout his short life of just 36 years, Bizet created true marvels such as his masterpiece, Carmen, the world's most performed opera. I myself had the privilege of singing this sublime piece on over 200 occasions, in addition to having directed it close to 50 times over the course of my career.
Now it's up to us – the friends of Europe's cultural heritage – to offer Georges Bizet a worthy birthday gift: let us help the City of Bougival and the European Music Centre to buy and restore Bizet's beloved house in the charming little town of Bougival on the banks of the Seine near Paris, where he composed Carmen and sadly, passed away at such a young age.
Let it finally be the Home of Bizet and his Carmen! We owe it to him, after all that he has given us…
I am counting on each of you. Let us be numerous in our contributions. Any amount, however small, is more than welcome!
Thank you!
Plácido Domingo
President of Europa Nostra
For more information:
Visit www.dartagnans.fr/Carmen to discover this challenging project and the rewards offered to project supporters!
DONATE and/or SHARE news of this initiative on social media and through your own network.
Every contributor will see her/his name inscribed on the project's dedicated website and subsequently also in the future "Espace Carmen" to be created near the House of Bizet.
Media around Europe are talking about the initiative to save the House of Bizet in Bougival, such as:
Le Figaro
Arte
RFI Espagnol
Ardmediathek