A Cultural Deal for Europe
A central place for culture in the EU's post-pandemic future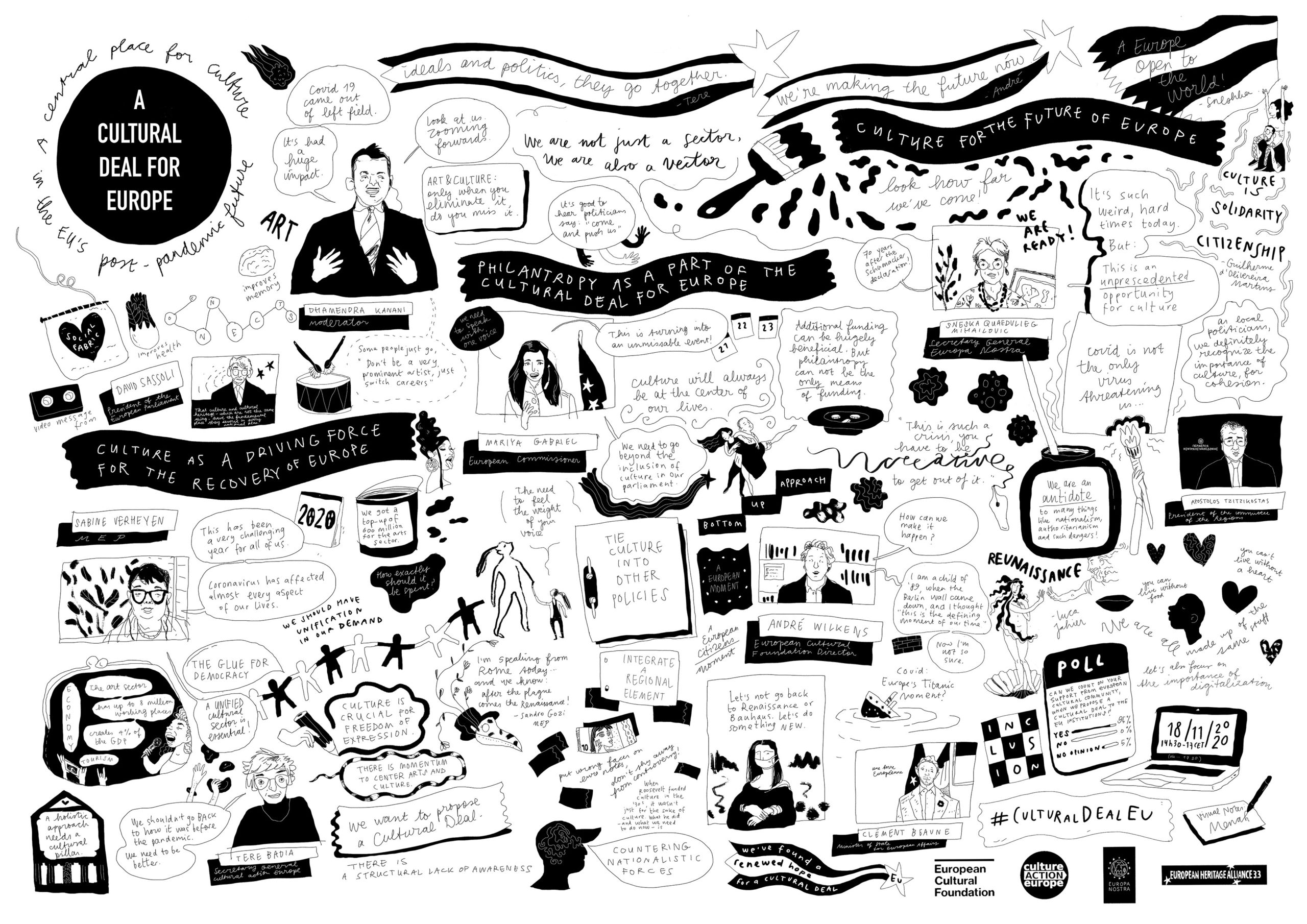 Illustration by Menah www.menah.nl
Joint Statement by Europa Nostra, Culture Action Europe and the European Cultural Foundation
Dear Colleagues and Partners,
We are pleased to share with you an important follow-up to the "Cultural Deal for Europe" online debate, which took place on 18 November hosted jointly by Europa Nostra, also on behalf of the European Heritage Alliance, Culture Action Europe and the European Cultural Foundation. The aim of this successful online event was to discuss the strategic ways of putting culture where it belongs: at the heart of the European project.
On November 18, more than 500 viewers followed the high-profile online discussion with contributions by representatives of EU institutions, Member States, major pan-European cultural and heritage networks as well as civil society. Based on the fruitful and inspiring discussions held on this occasion, the three organising partners have launched today a Joint Statement entitled A Cultural Deal for Europe: A central place for culture in the EU's post-pandemic future.
We are pleased to share with you this Joint Statement, calling EU and national policymakers to commit to an ambitious #CulturalDealEU, an umbrella strategy for reviving and reimagining Europe through culture and cultural heritage.
Our Joint Statement puts forward an overarching and transversal Cultural Deal for Europe, including a series of concrete proposals for realising the potential of culture and heritage as major forces in the EU's socio-economic recovery and its long-term future.
Our Joint Statement highlights the importance of mainstreaming culture and heritage across all policy fields: from the green transition to Europe's geopolitical ambition, and from the digital shift to a value-driven Union. It bundles together both short-term and long-term perspectives. It eyes the immediate recovery of our societies with the ambition to build a new paradigm for designing the Future of Europe.
With best regards on behalf of the partners behind this ambitious initiative,
Sneška Quaedvlieg-Mihailović,
Secretary General, Europa Nostra
EUROPA NOSTRA
The Voice of Cultural Heritage in Europe | La Voix du patrimoine culturel en Europe

Headquarters
Lange Voorhout 35, 2514 EC The Hague, The Netherlands | 31 (0)70 302 40 50 |
info@ europanostra.org

Brussels Office
Rue de Treves/Trierstraat 45, 1040 Brussels, Belgium | 32 (0)2 486 25 26 |
bxl@europanostra.org