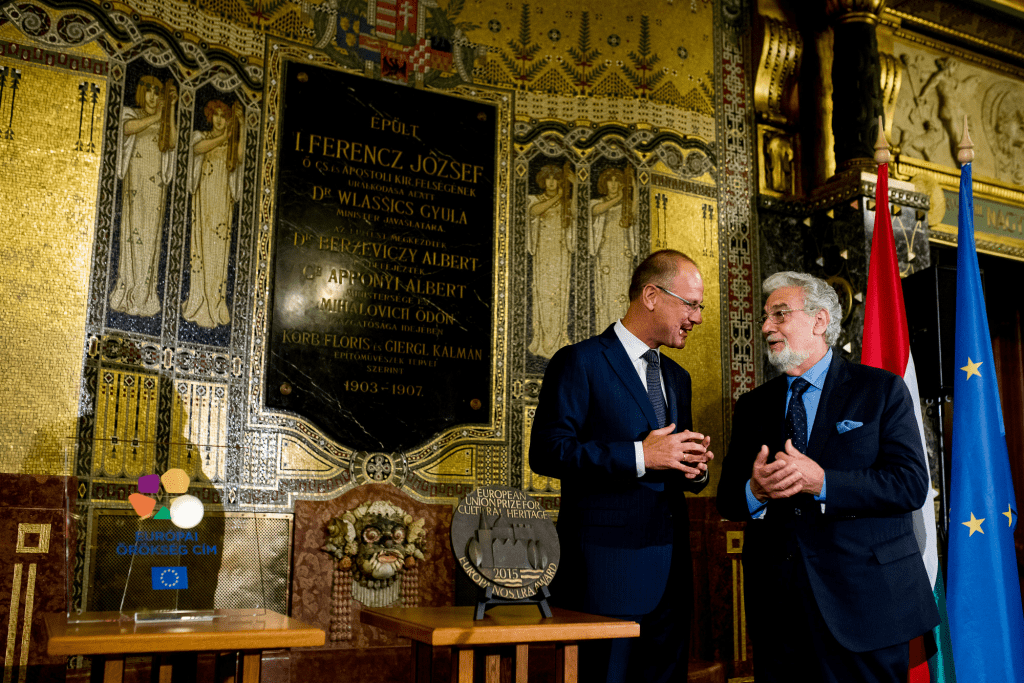 The Hague / Budapest, 8 August 2016 – Plácido Domingo, in his capacity as President of Europa Nostra, Europe's leading heritage organisation, and Tibor Navracsics, European Commissioner for Education, Culture, Youth and Sport, were in Budapest yesterday afternoon to pay a special visit to the Liszt Academy of Music and to celebrate the exemplary rehabilitation of its Art Nouveau building, which in 2015 won a Grand Prix of the EU Prize for Cultural Heritage / Europa Nostra Awards, Europe's top honour in the field. Maestro Domingo and Commissioner Navracsics also paid tribute to the Liszt Academy as a symbol of European history, values and identity, forwhich it has recently received the European Heritage Label. Dozens of public and private representatives from Hungary committed to preserving our shared rich tangible and intangible cultural heritage participated in this festive event, which was held just three days before Maestro Domingo's free open air concert in front of the iconic St. Stephen's Basilica in Budapest.
Plácido Domingo and Commissioner Navracsics, together with other distinguished guests, were given a guided tour through the masterfully restored building of the Liszt Academy by Prof. Gyula Fekete, Vice-Rector for Research and International Affairs. The President of Europa Nostra and Commissioner Navracsics presented a Grand Prix of the European Heritage Awards 2015 for the outstanding restoration of the Liszt Academy's building to Prof. Fekete. Commissioner Navracsics also unveiled the plaque of the European Heritage Label received by the Liszt Academy in 2015 for "bringing our music heritage to the fore whilst holding true to its spirit of openness, creativity and innovation and its European and international character".
"The Liszt Academy is an outstanding example of Europe's rich cultural heritage. A heritage that forms a vital part of our European identity, that brings us together and helps us understand our shared values and each other. That is why we need to safeguard this heritage – today more than ever. Everyone should have the chance to (re)discover it, learn about it and take a stake in the way it is managed and preserved. We will continue to work for this important goal, using our Creative Europe programme and other initiatives," stated Commissioner Navracsics.
The President of Europa Nostra praised "the marvellous and very complex restoration project which gave this beloved cultural institution a new lease of life" and congratulated all people who worked hard on this project and also those who ensured its funding. "We are especially pleased that the European Union provided a vital support through its structural funds. We only hope that in the future an even bigger proportion of these funds will be dedicated to similar outstanding cultural projects," he emphasised.
Designed by Hungarian architects Flóris Korb and Kálmán Giergl and built in 1907, the house of the Liszt Academy of Music is one of the most impressive examples of Central European Art Nouveau architecture. After over a century of use, the superior standard required for today's musical performances and education made rehabilitation necessary. Following a two-year extensive renovation project, which was led by the architects Éva Magyari, Béla Pazár and Ferenc Potzner, the iconic building was returned to its former splendour and outfitted with 21st century technology. The Chamber Hall, also called the "Art Nouveau miracle", regained its orchestral pit and flies and now functions as a chamber opera venue. The most advanced stage machinery and climate-controlled instrument storages were installed. New tuning rooms for larger orchestras and choirs were created. Renewed from the basement to the loft, the building provides accessibility for people with disabilities, and its interior space was expanded by 3,000m² through the complete conversion of the basement level and the attic and the covering of the courtyard.
In his moving address, Maestro Domingo referred to Ferenc Liszt as "a deeply Hungarian and a truly European musician, who composed and performed across our continent and who cooperated with Chopin, Saint-Saëns, Grieg, Berlioz and Wagner"; "a great philanthropist who generously supported artists and good causes across Europe"; and "one of the greatest musical educators of the 19th century".
"I firmly believe that musical education – cultural education in general – should become much moreimportant than it is the case today. If you do not embrace culture and music as a way to nourish your soul and your spirit, how can you overcome the current climate of division and fear? Europa Nostra and I therefore very much count on the European Commission and Commissioner Navracsics as well as on European governments to build strong bridges between the world of education and the world of culture in the years to come," stated Plácido Domingo.
Referring to the Commission's intention to hold the European Year of Cultural Heritage in 2018, the President of Europa Nostra affirmed: "Let 2018 be a year in which we shall connect amazing heritage initiatives across Europe to demonstrate the vitality and relevance of culture and cultural heritage as a cohesive force for Europe. We therefore hope that the Academy will gladly accept to be one of this Year's prime Ambassadors by celebrating and sharing Europe's musical and cultural heritage during the Year and beyond".