Plácido Domingo and EU Commissioner Navracsics announce Grand Prix winners of the European Heritage Awards 2017 in Turku
Turku, 15 May 2017 – The winners of the 2017 EU Prize for Cultural Heritage / Europa Nostra Awards, Europe's top honour in the field, were celebrated this evening during a high-profile event at St. Michael's Church in Turku, Finland. Maestro Plácido Domingo, President of Europa Nostra, the leading heritage organisation in Europe, and Tibor Navracsics, European Commissioner for Education, Culture, Youth and Sport, co-hosted the European Heritage Awards Ceremony. They announced and presented the 7 Grand Prix and the Public Choice Award, chosen from among the 29 winning achievements of this year.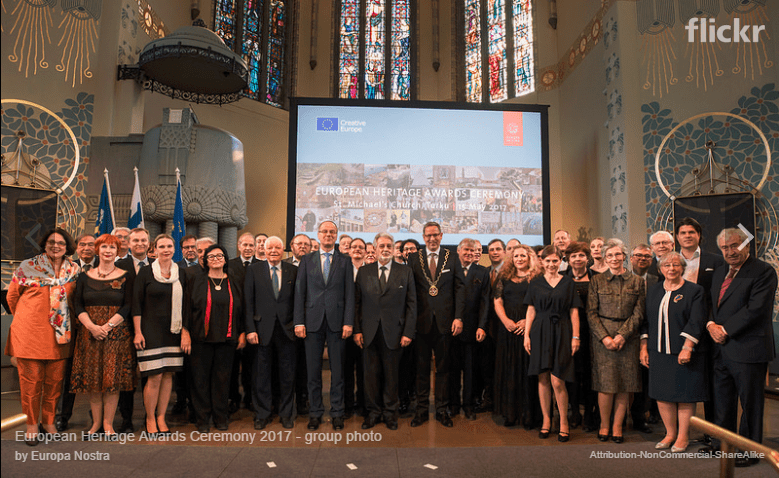 The 7 Grand Prix laureates, selected by an independent jury of experts and entitled to receive €10,000 each, are:
Category Conservation
Baroque Complex and Gardens in Kuks, Hradec Králové Region, CZECH REPUBLIC
The King's Road across Filefjell, NORWAY
Cultural Palace, in Blaj, Transylvania, ROMANIA
Roof for the Ruins of the Monastery of San Juan,Burgos, SPAIN
Category Research
Bosch Research and Conservation Project, 's-Hertogenbosch, THE NETHERLANDS
Category Dedicated Service
Mr. Ferdinand Meder, Zagreb, CROATIA
Category Education, Training and Awareness-Raising
Centre of Visual Arts and Research, Nicosia, CYPRUS
The Public Choice Award, which is in its sixth edition, goes to Mr. Zoltán Kallós, who has devotedly compiled collections of music, dance, storytelling and crafts of the Hungarian, Romanian, Saxon and Roma communities of Transylvania in Romania for over 70 years. It is the first time that an accomplishment in the category Dedicated Service to Heritage obtains the highest number of votes. 11,500 people voted for their favourite heritage achievements in Europe via an online poll conducted by Europa Nostra.
During the ceremony, the EU Prize for Cultural Heritage / Europa Nostra Awards were presented to 29 winners from 18 countries taking part in the EU's Creative Europe programme. In addition, two exemplary projects from Switzerland and Turkey, European countries that are not participating in that programme, also received a Europa Nostra Award.
"It has been an enormous privilege to meet and honour all Award winners in the beautiful historic city of Turku on the occasion of Finland's 100th anniversary of independence. Each winner is a shining example for all of us who care and work for our common heritage. Our Awards Ceremony and Congress in Turku was also the perfect occasion to mobilise our award winners, members and partners to actively contribute to the European Year of Cultural Heritage in 2018. We must not miss this historic opportunity to put our shared cultural heritage where it belongs – at the very heart of the European project which we need to revive!" stated Plácido Domingo, the renowned opera singer and President of Europa Nostra.  
"Once again, the EU Prize for Cultural Heritage / Europa Nostra Awards celebrate the talent of excellent craftspeople and professionals, the tireless work of volunteers, and the devoted efforts of educators, who ensure that our cultural heritage can be enjoyed today and safeguarded for future generations. Europe's cultural heritage is one of its most valuable resources. Its value is not just symbolic – it has a positive impact on our quality of life, on our economy and on our society. I am delighted that 2018 will be the European Year of Cultural Heritage. This is a great opportunity to make EU citizens from all backgrounds aware of the value of our shared cultural heritage, the risks it faces and the opportunities it offers for fostering social inclusion and building the communities of the future," said Tibor Navracsics, European Commissioner for Education, Culture, Youth and Sport.
The Awards Ceremony in Turku was attended by some 1,200 people, including heritage professionals, volunteers and supporters from across Europe as well as top-level representatives from EU institutions, Member States and the host country.
The Awards Ceremony was the closing public event of the European Heritage Congress that has brought hundreds of heritage players from all over Europe to Turku on 11-15 May. Organised by Europa Nostra and its country representation Europa Nostra Finland, the Congress was supported by the City of Turku, numerous public and private bodies from Finland and other European countries as well as by the Creative Europe programme of the European Union.
In 2018, the EU Prize for Cultural Heritage / Europa Nostra Awards will be used as a pivotal instrument for promoting the key objectives and messages of the European Year of Cultural Heritage. The Call for Entries 2018 for this Special Edition of the Awards Scheme will be posted on 1 June 2017 on the Awards website: www.europeanheritageawards.eu/apply